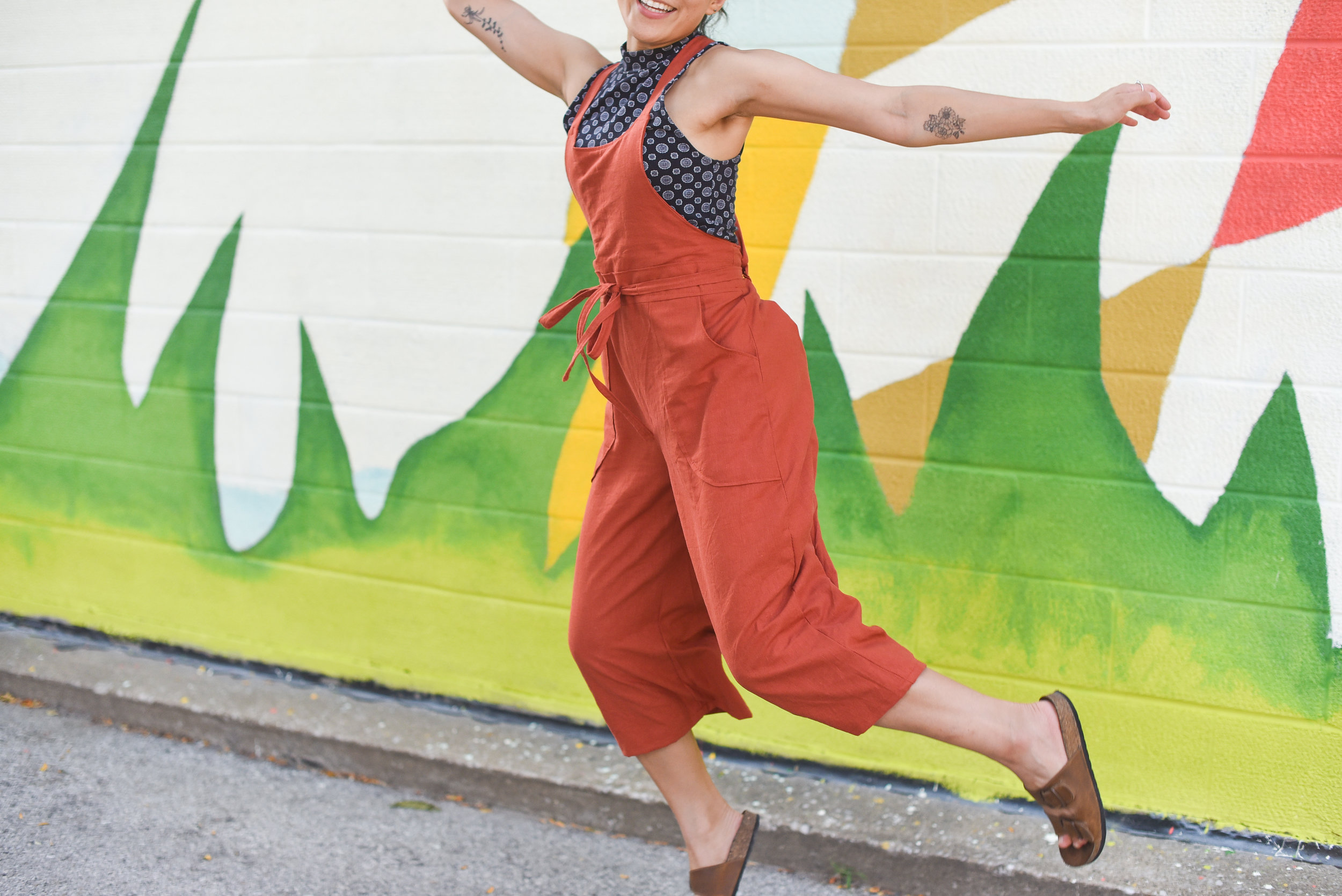 AHH! I can't believe it's DONE. Remember when I said I would never sew a jumpsuit without a pattern again? That was true. So I decided my very first pattern would be Sew House 7's burnside bib because, I mean look at this thing! Peggy's design is so irresistible, I had to make myself face any doubt and just do it. Though I probably won't be making another one anytime soon (need a break from roughly 10 hours spent on this guy), I couldn't be more excited! My mantra the entirety of making of this piece was, "trust your work," and I am so glad I did.
Having never picked up a pattern before, I started by questioning where to even dive in (shout out to Youtube tutorials and sewists that are so generous about sharing their wisdom with the web!). I learned what all of the symbols meant (darts, notches), where to cut, and eventually it all came together to make sense. Cutting the pattern itself was a mess at first. I aimed for a size 0 based on my measurements and this made me nervous because I wanted to keep the sizes up to 20 (in case I wanted to kick it up a few sizes in the future or make a pair for other people). Eventually I talked myself into thinking I would be comfortable enough one day to not need a pattern (ha!) or bank on my muscle memory to help grade the pattern a size or two up. Once everything was cut, it was a breeze!
Peggy's patterns are so easy to follow. Like most patterns (apparently) the burnside bib comes with a small comprehensive instruction packet with a glossary of terms, images (YES), and options. I love options. There were two versions of the bib. I mixed a version #1 top (a more curved neckline) with a version #2 bottom (no zipper — didn't want to mess with an invisible zipper quite yet, though I had sewn one once before). I decided on cropped legs and I used a linen blend fabric. It is lightweight and feels super comfy. The pattern also suggests canvas or denim for a thicker, utilitarian feel. The finish was "seamless" heh. This thing goes well with basically anything and I am so excited to basically live in it!
The hardest part of the pattern (besides the cutting — which was honestly more tedious than difficult), was the ties. There's a method of making the ties where you sew a tube and flip it inside itself. Since it was so narrow, it was a little tricky. After that, it was all fine!
The bib is an intermediate level pattern (!!!). For a person that just picked up this sewing thing, I am proud to say I can look for patterns that are that same level or lower with confidence, yay! I already have fabric for another upcoming piece!
More soon. Thanks for the love!
xxo